Author: Mark Oastler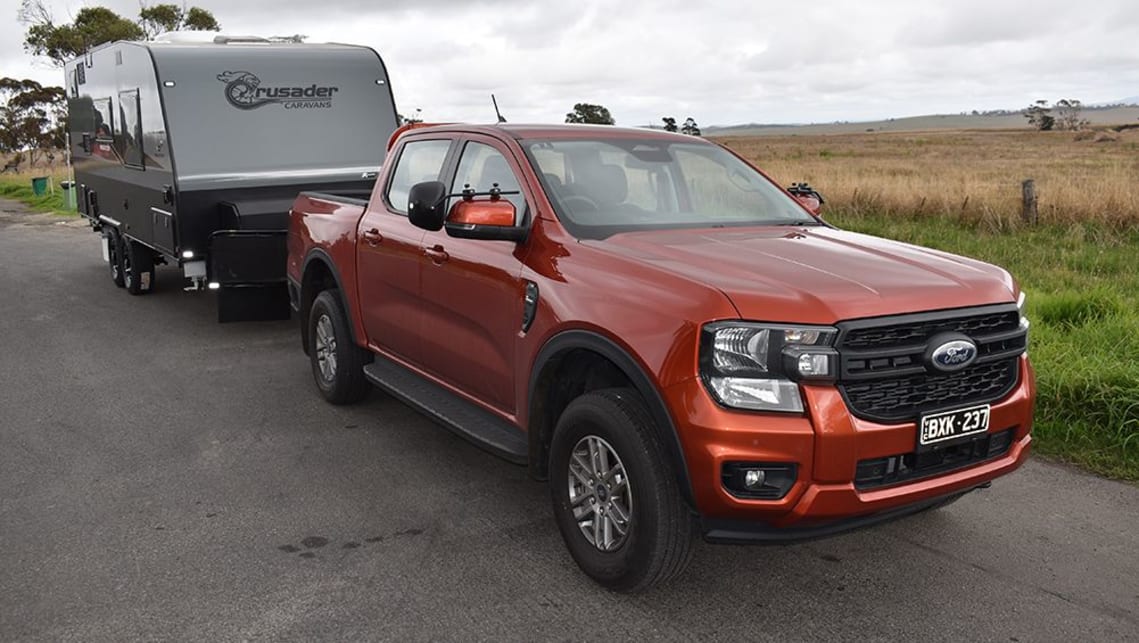 During our third and final month with the Ranger XLS we wanted to test its towing performance.
Given that many dual cab ute owners want their vehicles to perform the dual roles of weekday worker and weekend escape machine, the ability to efficiently and safely tow is important.
That could require towing heavy work-related trailers, including plant and equipment during the week, while on weekends or holidays they might need to haul caravans, boat trailers or horse floats.
The current Ranger generation, like its predecessor, has a class-benchmark 3500kg tow rating.
Fortunately, we didn't need to get the XLS equipped for towing as it was supplied by Ford ready to roll with a genuine accessory towing kit comprising a tow-bar with 50mm ball, 12-pin trailer plug and electronic trailer-brake controller.
We also decided to fit our own set of Milenco Grand Aero 4 towing mirrors, which are easy to install and remove as required.
The good people at Crusader Caravans supplied us with a new 24-foot Musketeer Treville.
Featuring the latest in Crusader's strong but light composite body construction, this dual-axle van has a 2518kg tare weight and 3312kg GTM (Gross Trailer Mass) which allows for up to 794kg of payload that includes all water tanks, gas bottles, equipment and luggage.
The Ranger could legally tow the Musketeer at its maximum GTM. And given the Ranger's 6350kg GCM, or how much it can legally carry and tow at the same time, that would still allow for almost 800kg of tow vehicle payload.
So, between the Ranger and the Musketeer, that's almost 1.6 tonnes of payload! Even so, for this test we towed at the Musketeer's 2518kg tare weight – or just over 2.5 tonnes – which was well within the XLS's capabilities.
After making the usual connections including towing hitch, 12-pin plug, safety chains and trailer breakaway, we initially set the dash-mounted electronic trailer-brake controller at midway (5) between its 0-10 settings.
Then, while travelling at low speed in a side road, we used the controller's manual 'gain' function to apply the trailer brakes independent of the tow vehicle to test its braking intensity, before settling on a slightly higher (6) setting.
We were pleased to discover that the latest Ranger generation has inherited all the towing attributes of its predecessor and then some.
Given the caravan's tow-ball download was less than 190kg at tare, there was no noticeable drop in the Ranger's rear suspension height.
When cruising at 100km/h it also displayed low engine, tyre and wind noise, with no change in steering feel or turning effort.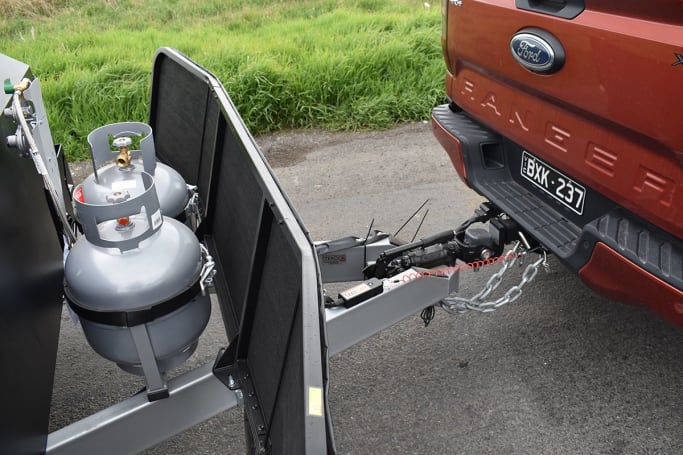 Although the posted limit was 110km/h, we set the cruise control at 100km/h to provide a small safety buffer.
The 10-speed automatic, with 'Tow/Haul' drive mode selected to optimise performance, alternated between the eighth and ninth ratios depending on gradients.
This kept the 2.0-litre 'Bi-Turbo' diesel humming along between 1800-2000rpm, where it was delivering its maximum 500Nm of torque. It only shifted into top gear on slight descents.
It must be said the Musketeer Treville towed superbly, like all Crusader caravans we've tested. It maintained a rock-solid stance on the road with the supple but disciplined coil-spring suspension soaking up bumps with ease and the brakes providing ample response to the middle pedal.
The only time we experienced trailer sway was when two B-doubles passed us travelling quite close together in nose-to-tail formation, which created a big gush of swirling wind.
The destabilising effect was only minor but it was enough to trigger the Ranger's active trailer sway control, which quickly eliminated the sway while gently slowing the vehicle.
It was good to experience that, because it shows how effective these active safety systems are when towing.
Although the Ranger's 500Nm of torque is ample for this task, its twin-turbocharged engine saw a spike in fuel consumption (as expected) from around 10.5L/100km when we started to 13.8 when we finished – an increase of more than 3.0L/100km.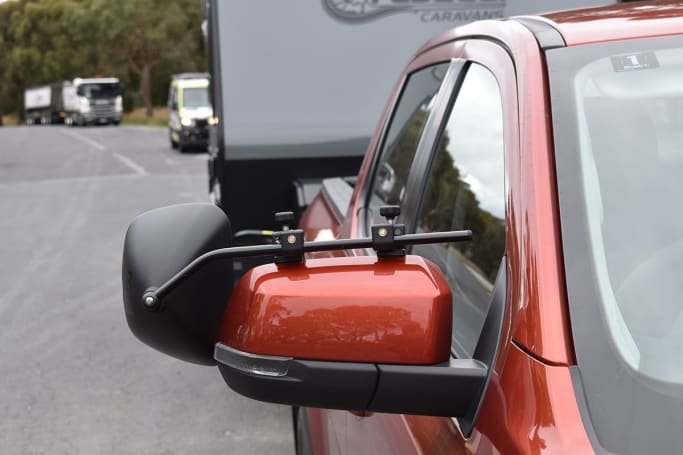 Even so, the engine wasn't straining to do the job, given its high gears and low rpm at highway cruising speeds.
However, that was no surprise given that the Ranger was unladen and our 2.5-tonne towing weight was a full tonne below its 3.5-tonne limit.
We also didn't encounter what you might call 'mountainous' climbs on our test route, which would require lower gears, more revs and higher consumption.
The only thing we didn't like about the Ranger when towing is the vertical 'bar graph' style tachometer readout, because it's hard to get an accurate read on rpm given that there are no 100rpm increments displayed between the main 1000rpm markings. We'd prefer a traditional round-faced display with more detail.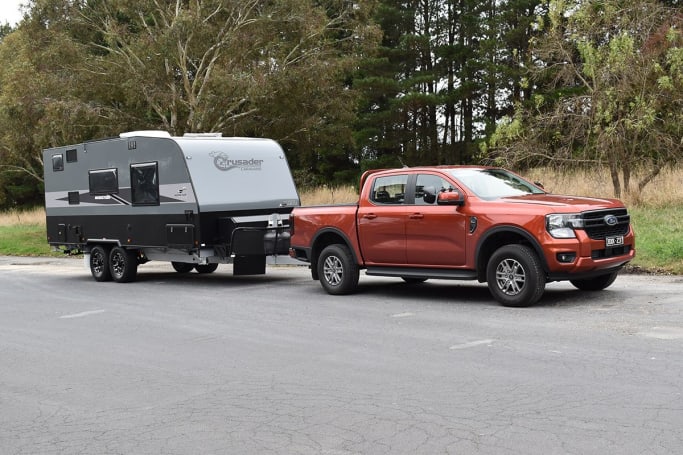 Fuel consumption
During our final month with the XLS we added another 1099km to the odometer, which included our highway towing test plus the usual city and suburban driving.
We drove 569km on the first tank with the dash display claiming average combined consumption of 10.5L/100km when we stopped to refuel.
That all-but matched our own figure of 10.7 calculated from fuel bowser and trip meter readings.
We covered another 530km on the second tank, with the XLS's and our own figures even closer this time, at 9.5 and 9.6L/100km, respectively.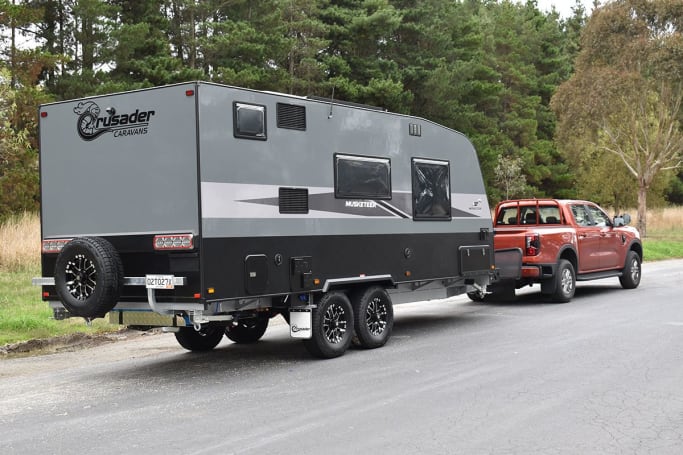 So, during our three months of ownership the XLS has maintained 'real world' average fuel consumption in the high-9.0s to low-10s, which is good economy for a light commercial vehicle with 500Nm performance that weighs more than two tonnes and is mostly driven in urban environments.
Acquired: March 2023
Distance travelled this month: 1099km
Odometer: 3786km
Average fuel consumption (at pump): 10.2L/100km
Average fuel consumption (at pump) after 3 months: 10.0L/100km
.
Original article posted on CarsGuide.com.au: https://www.carsguide.com.au/family/ford-ranger-xls-bi-turbo-p3-90010